As you head for retirement age or are retired already, you may have ambitions and aspirations for the things that you want to enjoy in retirement.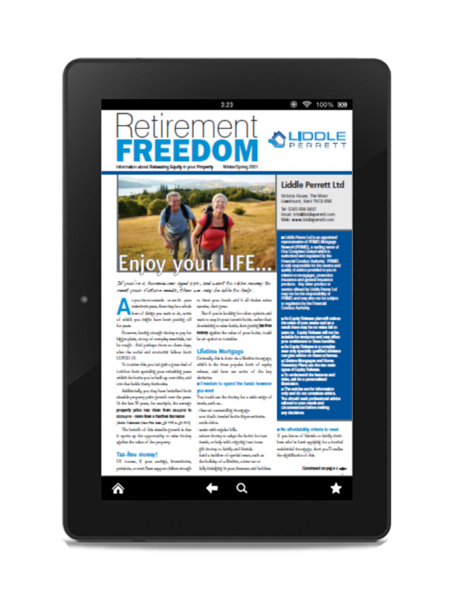 But sometimes if those ambitions are big-ticket – holidays, that dream car maybe, or helping family members- they may seem out of reach.
But there may be ways that you can release equity from your property to enable you to realise those ambitions.
We've published our newsletter Retirement Freedom that takes you through all of the details and information about releasing equity from your home.
There is a lot to digest and understand, and we recommend seeking professional advice to take you through the benefits, help you understand the risks and run through the products that are available and how they work.
---
If you're a homeowner aged 55+, and want to raise money to meet your future needs, then we may be able to help.
■ Liddle Perrett Ltd is an appointed representative of PRIMIS Mortgage Network (PRIMIS), a trading name of First Complete Limited which is authorised and regulated by the Financial Conduct Authority. PRIMIS is only responsible for the service and quality of advice provided to you in relation to mortgages, protection insurance and general insurance products. Any other product or service offered by Liddle Perrett Ltd may not be the responsibility of PRIMIS and may also not be subject to regulation by the Financial Conduct Authority.
■ An Equity Release plan will reduce the value of your estate and as a result there may be no value left to pass on. Equity Release will not be suitable for everyone and may affect your entitlement to State benefits.
■ As Equity Release is a complex area only specially qualified advisers can give advice on these schemes.
■ Lifetime Mortgages and Home Reversion Plans are the two main types of Equity Release.
■ To understand the features and risks, ask for a personalised illustration.
■ The articles are for information only and do not constitute advice. You should seek professional advice tailored to your needs and circumstances before making any decisions.